Some rooms are just a little bit bigger than others. It might be a Great Room in your home, a master bedroom, or another place where you regularly spend time, but smaller units aren't going to meet the needs of this large space. You're going to need the best large room air purifier. These reviews will help you be able to find the model with the right features for you today.
The Best Chart for Large Room Air Purifiers 
Large room models operate in the same way as their smaller counterparts do. The only difference is that they are built to cycle higher levels of air at a much greater frequency. These top-rated models will help you make sure that the air you breathe every day in your larger rooms is virtually free from the particulate contamination that can be so bothersome.
What is a Large Room Air Purifier and Why You Need One 
It's all about the airborne particulates.
Different designs will target different indoor air quality pollutants. It's important when shopping for a large room air purifier that you find one that can pull out the pollutants that may be in your home. Then you'll need to look at the coverage that the air purifier can provide to make sure you can effectively reduce pollutants in your large room.
The type of pollutant matters because each indoor air quality issue has a different size of particulate. If the filter can't pull out that pollutant, then it will just get pushed back into the air that you breathe. You'll have wasted your money. Here is a look at the size of some of today's most common indoor air quality pollutants.
Mold: 1-5 microns, up to 20 microns for large colonies.
Bacteria: 0.3-3 microns.
Dust Mites: 10-40 microns.
Plant Spores: 10-70 microns.
Pet Dander: 0.3-5 microns.
Pollen: 10-100 microns.
Fungi: 0.5 – 5 microns.
Cigarette Smoke: 0.003-0.04 microns. 
As you can see, some basic air purification can help you eliminate dust mites, some mold spores, and many bothersome pollens. Upgrading to true HEPA filtration can help you to remove bacteria, small pet dander, and fungi contaminants. Cigarette smoke, however, can be difficult to remove for even the best large room air purifiers because this contaminant is so small. 
With the right unit, you can limit these pollutants very effectively. The best way to do that is to find a large room air purifier built with the features that can take care of your needs right now. 
The Features of a Large Room Models 
Every large room air purifier you look at today should focus on one thing: air circulation. This is the biggest struggle that a large room has. Because the space is so open and large, it can be very easy to have ineffective air circulation. Vaulted ceilings and other architectural features can enhance this problem. If the air purifier doesn't promote air circulation, it will never truly filter the entire indoor environment.
Depending on the contaminants in the large room, you may also wish to shop for a model that is built to be a sealed system. Sealed systems trap the particulates that are filtered out of the air and won't let them leak back out if you forget to change a filter or the unit runs into a mechanical issue for some reason.
Odors can also be a problem for some large room air purifiers. Removing odors is a little different from removing particulate contaminants. You need to have a feature included that allows for carbon filtration of the air. If all you're using is a HEPA filter, then the odors are going to pass right through and come back out once the purifier has cycled.
You'll also want to look for a large room air purifier that is rated for 24/7 use. If it's not running all day at a constant level, then there will always be pockets of air that get trapped in large rooms that will never be filtered.
Factors to Consider When Shopping for a Large Room Model
Coverage area. You'll want to make sure that your large room air purifier can actually handle the room you plan to have it operate in. Most manufacturers use an 8 foot ceiling as a guideline for their square footage recommendations, so keep that in mind if your ceilings are higher.
ACH. This is the "air changes per hour" rating of the unit. The number is a reflection of how many times the air is filtered in the room per hour. A rating of 5 indicates 5 total air changes for each hour of operation.
Filter replacement. Even HEPA filters need to be replaced occasionally. Don't forget to make sure you can access the filter and if replacement filters are available for your preferred air purifier.
Noise pollution. Some large room air purifiers are needlessly loud. If you don't want your ears ringing when you're in the same room as this machine, then look for whisper-quiet technologies as part of the shopping process.
Ozone creation. There are models that produce high levels of ozone. Some designs only create ozone. It can be a lung irritant, especially for those with asthma issues, so look for models that keep ozone levels down. 
What Are the Prices of the Best Large Room Air Purifiers? 
These aren't going to be cheap. Large room models need to have high levels of output, strong motors and support mechanisms for continuous running, and high coverage ratings. This means you won't typically find a good large room air purifier for less than $100. Premium models in this category can be over $700 if you need medical-grade components. For $150-$250, most households can find something that will meet their needs.
What Do Our Reviews Have to Say?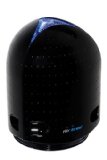 Working in rooms up to 350 square feet in size, this is a unique air purifier that runs with virtual silence. At its core is a different technology: Thermodynamic TSS. Think about how you sterilize things at home. You boil items in water, right? It's the same principle with this unit. This makes the unit ultra-efficient as it destroy the contaminants that might be lurking in your home. Mold, allergens, dust mites – they don't stand a chance. All organic pollutants can be effectively removed. Just turn the unit on and you get results.
Click here to check the price on Amazon and get the best deal.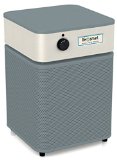 This extra-large air purifier is rated to purify rooms that are up to 938 square feet in size. It uses an exclusive HEGA (High Efficiency Gas Absorber) to get the job done. This technology, which was initially developed for the military as a method to combat chemical warfare, is able to eliminate over 3,000 different contaminants. There is also a 5 year HEPA filter included to remove the small particles that might be in the air and a pre-filter for the dust, hair, and pet dander. When you see how effective this model is at what it does, you'll want to own one just as much as we do.
Click here to check the price on Amazon and get the best deal.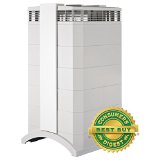 This model has the most effective air cleaning ratings for allergies according to the consumer foundation in Germany. It works in rooms as large as 900 square feet without producing any ozone. Using ultra-HEPA filtering, your home can receive the same results as clean rooms or hospitals with the grade of air filtration that occurs. A remote control comes with this unit for easy use and an integrated timer gives you fill control over your running time and filter life. It's an investment, but if you have sensitivities from the air in your home, this unit is virtually guaranteed to manage them effectively.
Click here to check the price on Amazon and get the best deal.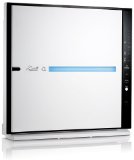 With this large room air purifier, you get six different filtration options from which to choose. This allows every home to create the customized air purifier they need to create specific results. Room coverage with this particular model is rated to 700 square feet thanks in part to the BioGS HEPA filter that is used. It removes odors effectively, but you will need to vacuum the pre-filter at least once per month for best results. It's not bulky like other designs in this category, is powerful, and will help you enjoy clean breathing once again.
Click here to check the price on Amazon and get the best deal.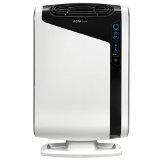 This four stage model offers you smart sensors so you can extend filter life by having the unit turn on or off automatically. It's a true HEPA filter that comes with this unit and it's so effective that it has been certified as being friendly for asthma and allergy sufferers by the Asthma and Allergy Foundation of America. A unique feature on this model, the "Cold and Flu Season mode," helps to remove potential viruses from your indoor air when they are at their most contagious. It is rated for rooms up to 600 square feet in size.
Click here to check the price on Amazon and get the best deal.
The best large room air purifier reviews will help you make certain that every room in your home has the best air quality possible. Some apartments, condos, or small single family homes may even find these models to be an effective whole home air purifier. Find your preferred model today and you'll be able to stop holding your breath for a great deal on the air purifier you need.