Best Small Air Purifiers and Personal Air Purifier Reviews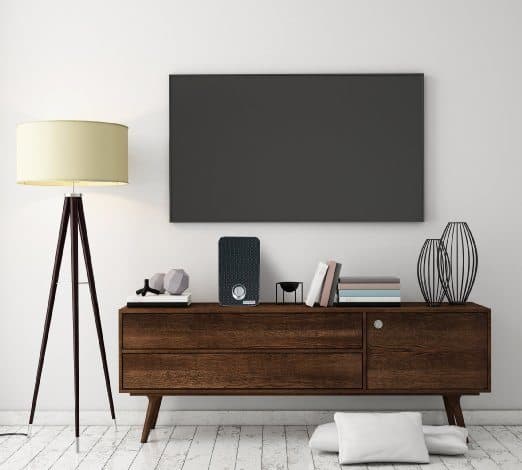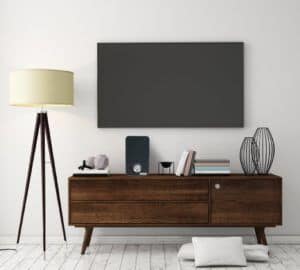 Sometimes your office can feel really stuffy. You might feel sinus congestion only at your desk. Some rooms in a home can also be that way. You feel great everywhere else but walk into that room, and BOOM your lungs feel like they hit a brick wall.
In these moments, you don't need to invest in a top-shelf air purifier. The best small air purifier and personal air purifier reviews can help you find a portable solution that will help you begin to feel better.
The Best Chart for Portable Air Purifiers
Air purifiers in this category are all about providing you with personal results; how they create those results can be very different. By comparing and contrasting these 8 top-rated models, you'll be able to find a great portable air purifier that can make you feel better no matter where you might find yourself during the day.
The Boundaries of Small and Personal Air Purifiers
Here's the issue: small and personal air purifiers don't have much of an output. They're usually not even suitable for a bedroom because of their size. What they can do is provide your personal space with better air quality as you go about your day.
If you work in a cubicle or you have a home office and want a space where you can focus, then the portable air purifiers in this category can work perfectly on your desk, on a table, or sitting on the floor next to you.
Yet so many of these small air purifiers or personal air purifiers have high levels of negative reviews. Why is that? It's because people do not realize the boundaries that these air purifiers have.
The usage boundaries of a small air purifier are very similar to the different boundary levels that each of us has for ourselves. We have intimate boundaries, boundaries for family and friends, boundaries for acquaintances, and then a very far off personal boundary for strangers. These are the four different circles of comfort based on the relationship we have with that person.
The air purifiers in this category would be only suited for working within your intimate circle of comfort. Asking it to step beyond that boundary is an unreasonable expectation, much like it would be unreasonable to have a close friendship with a stranger you just met on the street.
How to Find the Best Small or Personal Air Purifier
The air purifiers in this category are designed to operate in specific spaces. If you'd like to have an air purifier for your car during your commute to work, then you'll find a portable air purifier that can meet that need.
Others are designed for office spaces. Some are great for small rooms in your home. Sometimes the best air purifier in this category just sits on the table or desk next to you and provides you with a steady stream of filtered air.
Because of the unique size of this product, you'll find that there are different power options available to you. Some are designed to only work off of a USB cable. Some require you to plug them into a standard outlet.
A few models offer you both of these features. Depending on where you decide that you need the filtered air, this feature may be necessary to consider.
Some models also give you the ability to turn the filtering process off if you wish. This turns the product into a small compact fan that you can take with you almost anywhere.
Many of the air purifiers in this category are small enough to fit into a suitcase. Some even fit into a purse. This means you have a variety of features from which to choose, so your needs can be effectively met with the right combination.
This is where the reviews of the best small air purifiers and portable air purifiers can help you to make sure you're purchasing the right product. Comprehensive information, trial reports, and a fact-based look at each offered feature will let you know that your money is going to the right place.
What to Expect From the Best Portable Air Purifiers
You're not going to find a massive set of features available in this category of air purifiers. Some of the upper-end models do offer servicing indicators, multiple fan speeds, and air quality monitors that will allow the air purifier to begin operating when it senses indoor air quality levels are low.
The vast majority of models in this category, however, have a simple on/off switch and a replaceable filter, and that's it.
If you're looking to improve your home environment in a personal way, it is important for you to take certain steps to make sure this air purifier can do its job. Don't store glues, solvents, or pesticides in your home at all.
You may wish to avoid storing chemicals in your home, as well. Consider having your home tested for radon. For more practical advice, Consumer Reports offers an air purifier buying guide that gives you an in-depth look at how to maximize the effectiveness of your preferred model today.
What Are the Prices of the Best Small and Personal Air Purifiers?
The prices of the best small and personal air purifiers are very reasonable. You'll find numerous options available for less than $100. Some of these models even offer true HEPA filtration on an intimate scale.
USB powered models tend to be a little less expensive than traditionally powered air purifiers, but they also have lower levels of purification output as well.
The average price in this category is just about $50, however, so you won't have to spend a lot to get the quick fix benefits you might need for your home, office, or car.
What Do Our Reviews Have to Say?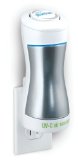 This might be a small air purifier, but the benefits are many. It fights germs through the use of UV-C technology. The ultraviolet light kills airborne particles, airborne viruses, bacteria, and other germs that might be lurking in your confined spaces. There is also a sanitation effect that helps to naturally combat odors which get magnified in small spaces.
Pets, mold/mildew, smoke – all gone in a day or two. 98% of mold spores, dust mites, and other allergens are destroyed when this unit is operating at full capacity. Give it a try, and we think you'll enjoy what this air purifier is able to provide for your home.
Click here to check the price on Amazon and get the best deal.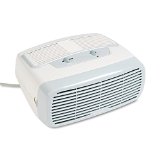 When you first see this best-selling air purifier, you might not think it can get the job done. It can. We plugged this unit into a bathroom with a mold issue, and it helped us to resolve colony growth very effectively.
It's also been used to reduce allergens within a bedroom, and the ionizer was used in a closet to reduce pet odors.
If you give this desktop air purifier some time to work, it will improve your indoor air quality for a remarkably affordable price. It also works well on the desk in your office – go figure, right?
Click here to check the price on Amazon and get the best deal.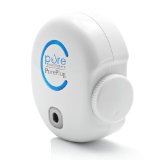 This little air purifier is designed to kill bacteria and odors in small spaces. Mini air purifiers such as this one is perfect for the laundry room or the bathroom. If you have odor control issues under the kitchen sink or in a closet, you'll want to give this air purifier a look as well.
It is a direct plug-in model that utilizes small amounts of ozone to purifier the air. It's useful in rooms up to 100 square feet in size. Just be careful – this air purifier doesn't like to operate for long periods of time. Use it occasionally for best air filtration results.
Click here to check the price on Amazon and get the best deal.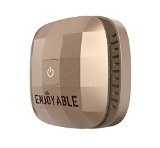 This is one of the most truly portable air purifiers that we've ever seen. Not only can you mount this air purifier on one of the vents in your vehicle, but you can also mount it in a laundry room, a pet area, or a closet to get great results.
It's a portable ionic purifier, so it works to remove bad odors while it also removes dust and pollen. Four different color options are available, and you can even run this unit off of USB power if need be.
It's compact, but it works just like larger-sized models available today to purify the air, and that makes it one of the best air purifiers out there right now.
Click here to check the price on Amazon and get the best deal.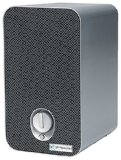 Many 3-in-1 air purification systems are going to set you back at least $100. At half the price, you'd expect this model to produce half the results, but that just isn't the case. This air purifier is just as effective as its larger cousins. It just doesn't have the capability to operate in large rooms and combat air pollutants as well as other models.
Three speed settings are offered on this air purifying tabletop tower, giving you the option to put a HEPA filter almost anywhere to control pet hair, pet dander, mold spores, and other airborne allergens or potential asthma triggers. It can provide you with fresh air and improved quality indoors.
Click here to check the price on Amazon and get the best deal.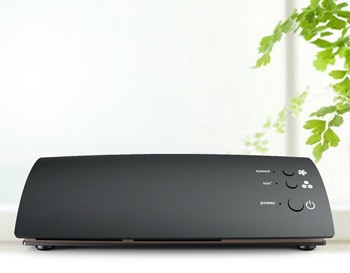 This is a newer version of a previous model, according to Amazon, but it is just as easy to operate as ever. It gets to work as soon as you plug it into a USB port. There are only three buttons on the device as well, making it easy to use. There is an on/off button, independent anion button and speed button.
It utilizes a photocatalyst to provide you with a clean environment while degrading pollutants. It also has a UV lamp to kill bacteria and viruses in just seconds, and its sterilization efficiency is as high as 99%.
Click here to check the price on Amazon and get the best deal.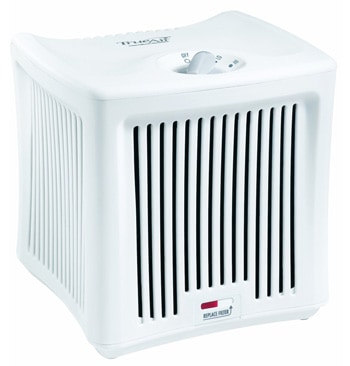 Hamilton Beach is already a popular and well-known brand, so you can rest assured knowing that with this purchase, you are buying a quality product that will freshen up your space and provide you with improved air quality.
It comes in at just under 8 inches in height and uses less energy than a standard 15-watt light bulb. Even in its small and compact size, it can still cover a 10 x 10 room effectively and leave it smelling clean and fresh for up to three months.
It used three carbon filters to trap and neutralize odors, has a two-speed switch, and works with or without the included scent cartridge.
Click here to check the price on Amazon and get the best deal.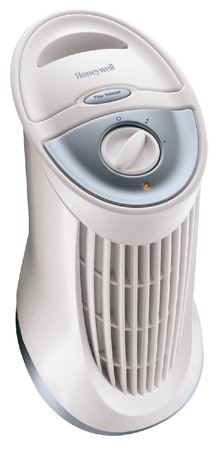 This air purifier uses a patented ifD filter that can capture up to 99% of even the most ultra-fine air particles. The air passes through the air filter and requires little maintenance. You also don't have any replacement filter costs to deal with either.
It has a sleek and compact design, which makes it ideal for those smaller spaces in your home or office. It uses two different cleaning levels and has an easy to use and control knob.
Click here to check the price on Amazon and get the best deal.
Bottom Line
When looking for a small air purifier, you need to be aware of the square footage you want to cover. As with any air purifier purchase, this is an essential consideration. You should also consider the noise level as well as the costs involved with its maintenance and any replacement filters you may need to buy in the future.
Do you suffer from allergies? You need to consider an air purifier that can combat these airborne particles that can leave you feeling sluggish. Small air purifiers work to help with allergy symptoms and leave you with fresh and clean air.
The best small air purifier can meet your personal needs and clean the air while giving an entire room an indoor fresh air quality benefit as well. Look for HEPA filters for the best results, but don't ignore the results cheaper models can provide as well even if they have a HEPA-type filter instead. Get yours today and clean breathing will be found right around the corner.