The dangers of second-hand cigarette smoke are well documented. The CDC states that the only way to eliminate this harm for non-smokers is to eliminate the smoke that is in the home.
Making your home smoke-free isn't always easy, but there is one tool that can help you get the job done. The best room air purifier for cigarette smoke will not stop all second-hand smoke from being breathed in by others, but it can improve the air quality and odor of a home.
The Best Chart for Air Purifiers That Handle Cigarette Smoke
There are numerous air purifiers which claim that they can help reduce cigarette smoke and its odors for your home, but which ones actually make the grade?
We've found the top-rated air purifiers in this category based on public reviews so you can see which ones are proven to work – and which ones fail miserably.
How Do Air Purifiers Work?
An air purifier or air purification system uses internal fans that pull the air from inside the home through a series of air filters that will then remove the harmful airborne particles found in the air of the home including dust, pollen, smoke, bacteria, and other allergens.
The air purifier then circulates the clean, purified air back into the room promising better air quality for yourself and your family. The filtration process ensures fresh air and less allergens.
Why Is a Room Air Purifier for Cigarette Smoke Necessary?
There is no risk-free level of second-hand smoke exposure. Even a brief exposure to cigarette smoke can be harmful to a person's health. The CDC estimates that 2.5 million non-smokers have died from health problems over the last 50 years because of their exposure to cigarette smoke.
Now the likelihood of brief exposure to cigarette smoke in a home is not likely to cause a potentially fatal disease. What it can do, however, is trigger an asthma attack. It may enhance an allergic reaction someone might have.
Smoke odors can cause children to struggle to breathe. You might receive an earful of complaints about the smell of ash in the air. This is where the best room air purifier for cigarette smoke can lend you a helping hand.
According to Dr. J. Taylor Hays at the Mayo Clinic, HEPA air filters in air purifiers or ionizers can target many of the particles that are contained in cigarette smoke. "While the use of air cleaning devices can help reduce levels of smaller airborne particles," Dr. Hays writes, "research suggests that the devices aren't 100% effective."
The bottom line is this: the best way to protect your health and the health of those around you is to stop smoking. If you're still working on that or if you don't want to give up cigarettes, but you don't want lingering odors in your home, an air purifier for cigarette smoke is your next best option.
How to Find the Best Air Purifier for Cigarette Smoke
The US Environmental Protection Agency reports that indoor air pollution levels can be up to 5x higher indoors than they are outside. If you're a cigarette smoker, those pollution levels can be even higher. By finding the best air purifier for cigarette smoke, you can begin to reduce the irritants and pollutants that might be affecting your health.
Your best option when searching for an air purifier that handles cigarette smoke is to look for products that have what is known as a CADR – Clean Air Delivery Rate. This program was developed by the Association of Home Appliance Manufacturers so that the best possible air purifier for a home could be found. HEPA air purifiers with a high CADR are able to filter out more air contaminants per minute.
But my preferred air purifier doesn't have a CADR rating. That's okay because you can figure it out on your own. The mathematical calculation is simple. Take the square footage of your home, multiply it by 0.75, and that gives you the CADR of the air purifier you're interested in purchasing. 
Let's say that the air purifier is rated to work in a room that is 272 square feet in size. Using the mathematical equation, you get a CADR of 204. [272 x 0.75 = 204].
Then you'll need to measure the square footage of your room where the air purifier is going to be placed to determine if it has the capability needed to filter out the cigarette smoke particles that might be lingering in the air.
You may also wish to look at the frequency of filtering cycles if you're looking to remove cigarette smoke and its odors.
The average air purifier has a filtering cycle of 10 minutes, but each model can vary. Faster filtering cycles mean more air is processed in a shorter amount of time, but you may also need to change out the filters more frequently, as well.
Things to Remember About Air Purifiers for Cigarette Smoke
Noise is also an issue to consider. Look for quiet air purifiers if you plan to place them in a bedroom or common living area
Always replace or clean your filters on a regular basis
Your owner's manual for your filtration systems will let you know where the proper placement of your new air purifier should be, so you obtain the best possible results
Reduce smoking indoors as much as possible
Consider changing the filters in your HVAC system as well for maximum benefit
What Are the Prices of the Best Air Purifiers for Smokers?
Let's be clear – no air purifier is rated to remove 100% of the cigarette smoke in your home. If you're a smoker, the second-hand smoke is going to linger and be breathed in by other people. Even the best air purifiers for smokers can only do so much.
If you are smoking outside or have the occasional smoke when no one else is home, however, an air purifier can give you an added level of protection for an average price of $100. Cheaper units are available but have low CADR ratings, but can all help remove smoke odors.
Bigger spaces need a bigger air purifier, so medium-sized units in this category may be priced as high as $200.
What Do Our Reviews Have to Say?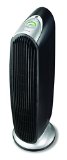 Perfect for the bedroom or another small- to medium-sized room, this air purifier takes out up to 18x more particulates from your indoor air while giving you 5 air circulations per hour.
Rated with a CADR of 100+ in dust, smoke, and pollen, this is an affordable, low-maintenance air purifier that gets the job done. A built-in ionizer helps to keep captured particulates within the unit, so all you have to do is vacuum them out to clean them. It gets the job done.
Click here to check the price on Amazon and get the best deal.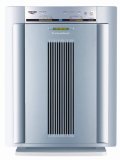 This is one of the few affordable air purifiers that is suitable for large bedrooms or family rooms. You receive fresh and clean air throughout the room, and this eventually cycles throughout your home, thanks to your HVAC system. Using a 3 stage filtering process, the dust, pollen, smoke, and pet dander doesn't stand a chance.
Even mold spores, organic chemicals, and difficult odors can be removed from the air that you breathe. It has a CADR for up to 350 square feet that includes pollen, dust, and cigarette smoke, so it is easily one of the best air purifiers in this category.
Click here to check the price on Amazon and get the best deal.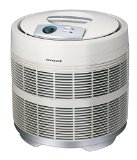 This air purifier works to get everything done for you in a short amount of time. It's designed to make sure you can always filter out the cigarette smoke and odors that might be lingering in your home.
Of course, the best results will always come from smoking outside, but if you can't do that (or don't want to – it's your home, after all), this air purifier is the next best option.
In rooms that are up to 390 square feet in size, you'll get 5 full air changes per hour. With a 360-degree air intake and discharge, there won't be any pockets of untreated air to worry about. That's why we see this as one of the best air purifiers available today.
Click here to check the price on Amazon and get the best deal.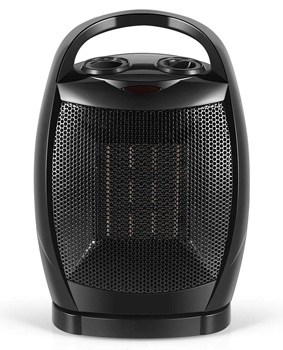 You'll get about 6 months of life from the activated carbon filter and 12 months from the true HEPA filter if you use the lower fan settings. If you're using the Turbo setting, the replacement time may be cut in half. Most of the fan settings are relatively quiet, but you'll notice the noise when the air purifier is on its highest setting.
The HEPA filter is also reportedly washable, but the brand doesn't offer instructions as to how to properly clean it. Vacuuming it out seems to be difficult. You may just need to replace the filter. Although it takes a little more work to keep this air purifier up and to run, it also does a fantastic job. It's definitely worth a look.
Click here to check the price on Amazon and get the best deal.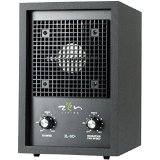 This is the air purifier that was specifically made for smokers. It's been engineered from the ground up to meet the indoor air quality needs that smokers have. The activated carbon filter is oversized and does a great job of scrubbing odors out of the air. Dual ionization helps to eliminate the smoke molecules that like to linger in the air.
You can run both plates or just one of them if the smoke odors don't seem so bad on some days. It works for small and large spaces and has a 5-year warranty supporting your purchase. At this price, you'll want to move fast to grab yours today.
Click here to check the price on Amazon and get the best deal.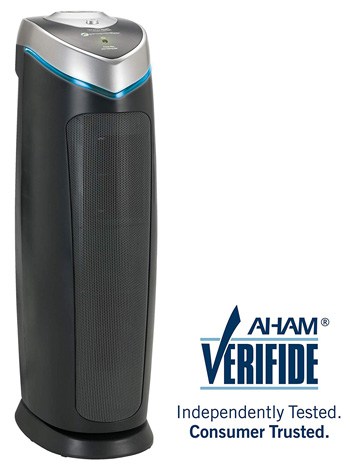 This is a 3-in-1 air purifier that uses True HEPA air filters to reduce up to 99.97% of germs, dust, pollen, pet dander, mold spores, and other allergens. The activated charcoal filter helps combat cigarette smoke, cooking fumes, and other household odors that aren't as fresh.
You can choose between three different speed settings as well, and you also have an optional UV-C light. This air purifier works the best in a room around 167 square feet and has the following CADR rating: Dust (118) Pollen (125) and Smoke (108).
Click here to check the price on Amazon and get the best deal.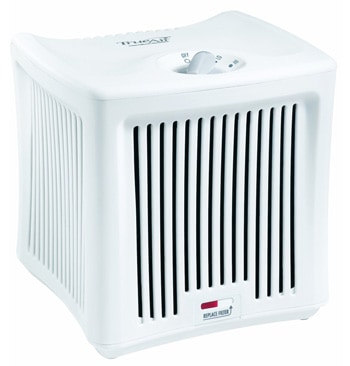 Have a larger room that you need to freshen up? This air purifier will work in any 10 x 10 room and uses three carbon filters to trap and neutralize odors. It has a much smaller and more compact design and uses less energy than a typical 15-watt light bulb, so it is a more energy-efficient model to choose.
For more control, it features a two-speed switch, and the lower setting is ideal when you want the home to be quiet. However, for a room that needs more work, you will want to choose a higher setting. You can also use this model in combination with a scent cartridge.
Click here to check the price on Amazon and get the best deal.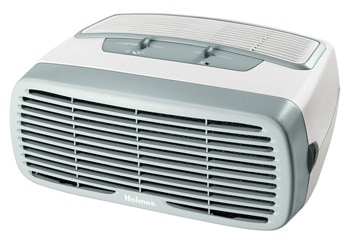 For smaller rooms and in areas where you find you just don't have as much available space, you will find that this is the air purifier for you. It uses HEPA type filtration to remove up to 99% of dust, smoke, pollen, odors, mold spores, pet dander, and other airborne particles.
You can choose from three different settings with the lower setting, providing you with much quieter operation and the others being a bit more powerful. Its dual positioning and compact design allow this device to be placed either vertically or horizontally.
Click here to check the price on Amazon and get the best deal.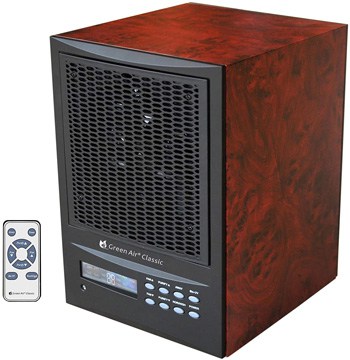 This Green Air Purifier model comes with an upgraded carbon filter, and it covers an impressive 3500 square feet. For stronger odor removal and to better purify the air, you can turn the ozone generators on and off depending on your needs and the environment and the type of allergens you need to eliminate.
This air purifier offers seven-stage filtration process and has either manual or remote control options available. Its fan is a quiet 5-speed fan, and it has a digital timer for convenience and ease of use.
Since this air purifier covers a much larger area for filtration, you will find that the device itself is much larger and weighs in at approximately 17 pounds and is 9-inches wide, 12-inches high, and 12-inches deep.
Click here to check the price on Amazon and get the best deal.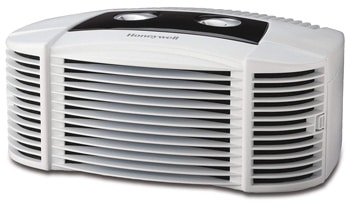 This air purifier has a HEPA type air filter and utilizes a more compact and space-saving design, so it fits nicely into any space. It can remove even the most stubborn air pollutants and allergens, including smoke, dust, pollen, pet hair, pet dander, and other allergens.
It has an on/off ionizer for even more smoke removal power and three cleaning air levels to reduce the most common household odors. It also features an electronic filter replacement indicator so you can stay on top of its maintenance and replace the air filter when needed to ensure its high performance and the best possible air quality.
Click here to check the price on Amazon and get the best deal.
Bottom Line
As you narrow down your choices, it is important to remember that you need to consider the square footage of the area you want the purifier to cover. You should also consider purchasing an air purifier that offers replacement filters at lower prices; otherwise you may find the costs begin skyrocketing with use. So, the budget (including your long-term budget) should also be a serious consideration.
The best room air purifier for cigarette smoke needs to work on multiple levels to improve indoor air quality levels. These are the proven makes and models that get the job done. Find yours today, and clean breathing can be just around the corner.