Your budget is tight. The air in your home isn't as good as you think it could be. Maybe you're having more allergy attacks this season or there are some sinus issues that just won't go away. Here's some good news: you don't have to spend a fortune on an air purifier for your home. This guide will help you find the best cheap air purifier for under $100. That way you can breathe deeply with confidence all day long.
The Best Chart for Air Purifiers under $100
Air purifiers that are priced for less than $100 typically get one key feature correct. There may be additional features included with some models, but to get the best bang for your buck, you'll want to look at the feature of strength. Look at your needs, then compare these top-rated models in the chart below to find best air purifier for you.
The Features of the Best Cheap Air Purifiers under $100 
When we took a look at the top-rated air purifiers in this category, we discovered that there are 5 key points that should be given a comprehensive look before finalizing a purchase. This way you can make sure you're getting the best product in this category for your needs.
Filtration. To give you a cheaper air purifier, you'll find certain models will say that they are a "HEPA grade" or "HEPA type" of filter. We recommend you look at the rated filtration levels in this category to get the best possible deal.
Ozone production. Ozone can help to eliminate odors in a home. It can also be very difficult on your lungs. The US Government recommends an ozone level at 0.08 parts per million or less for the home. Some cheap air purifiers remove odors by pumping up the ozone levels to 40 parts per million.
Coverage area. This lets you know the effective limits of the air purifier. Most of the models in this category work best in rooms that are 300 square feet in size or less.
CADR. This is the "Clean Air Delivery Rate" and is a measurement of how effectively an air purifier removes dust, pollen, and smoke. Higher numbers indicate a better air purifier. 
One of the features we highly recommend looking for is a carbon filter. This may be an additional filter for the air purifier, a pre-filter, or part of the main filter. Activated carbon is a safer way to remove bothersome odors in a home. If you own pets, live in the city, or work in an environment that contains harsh fumes, the carbon filter will help to keep those odors at bay rather effectively. 
Common Issues with Cheap Air Purifiers under $100 and How to Fix Them
When reading through the public reviews for each air purifier in this category, you'll find that there are many complaints about an air purifier having burning smells or adding a plastic smell to the air. Many new products have this issue, especially when they are made with plastics. We highly recommend operating the air purifier in your garage or another room you don't use regularly for 24-48 hours to help "season" your new air purifier.
Some of the air purifiers in this category are not designed for 24/7 use either. The parts for the motors just aren't built for that kind of stress. Our recommendation here is to operate the air purifier at night while you're sleeping and then turning it off during the day when you may be at work.
Many of these models that do publish their CADR will typically have a rating that is barely above 100. You're not going to want one of these models to help you eliminate cigarette smoke or other aggressive contaminants. The best air purifier for cigarette smoke is a better category for you to consider if this is your primary issue.
Is It Worthwhile to Purchase an Air Purifier for under $100? 
If you're looking for the best cheap air purifier, you might find yourself becoming quickly disappointed by the limitations these products have. You just can't compare a top-shelf air purifier with the models in this category. It'd be like buying a $10 bottle of Scotch and expecting it to be just as good as that $350 bottle of single malt that's behind three locks and bulletproof glass.
Or comparing a steak to a bowl of Ramen noodles. It just doesn't work. They're too different.
What is worthwhile about purchasing an air purifier for under $100 is that you can get a quick fix. If you've got a room that has odors in it, these models can help you get rid of them pretty effectively. You can put one in a bedroom to reduce allergens that could wake you up in the middle of the night. If you have a mold issue in your bathroom, putting a HEPA filter air purifier in this category can help to limit the growth of that colony.
Our best advice is this: look at your biggest need. Then look at the features of each air purifier to see what it can do. Find the model that meets your biggest need and you'll get the quick fix you want to make life a little bit better.
What Are the Prices of Air Purifiers In This Category?
You're expecting prices under $100 for this air purifier, but let's be more specific. For models that offer true HEPA filtration, you're going to be at the top of this pricing category. Smaller units that offer HEPA-type filtration can be found in the $35 range and they do a decent enough job in smaller rooms – especially bathrooms. The average price here is $68 – if you want more features, you'll be paying more. If you can settle for a basic unit, you'll be able to pay less.
What Do Our Reviews Have to Say?

The Germ Guardian 3-in-1 Cleaning System is CADR rated at 100+, so it's going to work best in small- to medium-sized rooms. We found it useful to place it in the bedroom and just leave it running around the clock. When we tested this unit in a larger room, there was still a noticeable improvement, but not as good as what we saw in the bedroom. There is no ozone creation. This is absolutely necessary to have in our household and we're happy to report that no ozone was detected while operating this unit. For the price, we found that the performance exceeded our expectations, which is why we considered it one of the best air purifiers under $100 today.
Click here to check the price on Amazon and get the best deal.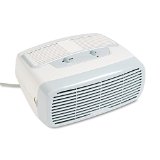 Even though this air purifier is under $50, it is still a solid addition to this category. You can turn it on and then let it run 24/7 to improve your indoor air quality. The ionizer isn't noticeable, but can remove even stubborn pet odors that linger in the air. You'll need to clean the filter out about once per month for best results, but you can just wash them out and put them back into the unit if you wish. Coat the filter with baking soda for even more odor control. We love the versatility of this desktop unit and think you'll enjoy it as well.
Click here to check the price on Amazon and get the best deal.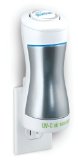 What do we like about this ultra-portable air purifier? In a word: convenience. This little air sanitizer can work with any outlet. Take it with you and plug it in at work. Put it in your bathroom. Put it in your RV. You'll notice a difference in the quality of the air you're breathing in just a day or two. Some users have said that this model is really loud, but we found it to be comparable to a bathroom exhaust fan. You'll notice it is there, but it becomes background noise after a day or two. If you want something fast and easy that you can turn on and forget, then this is the best cheap air purifier for you today.
Click here to check the price on Amazon and get the best deal.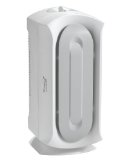 This air purifier looks as good as it operates. You've got 3 fan speed settings, but all of them are impressively quiet. You can run the highest setting in your bedroom at night and it won't bother your sleep. No replacement filters are necessary, and the filtration system can even filter out a majority of the allergens that may be in your air. You can even vacuum out this filter instead of washing it as well, which for some users may be a more convenience option. The tower design limits the space it takes up, but doesn't limit its effectiveness, and that's why this model earns our recommendation.
Click here to check the price on Amazon and get the best deal.
TEC Bean
Sometimes a product really surprises you. That's the case for us with this particular air purifier. It's miniature design and USB-power function makes it seem like it could be a fun little portable or office air purifier at best. Instead we found that it could improve the indoor air quality in our master bedroom if we let it run for a couple hours. You can also take this model with you and run it off of 4 AA batteries if you wish. It eliminates 99% of airborne bacteria, kills odors, and you can even let it run in your fridge if you like.
http://www.amazon.com/TEC-BEAN-Freshener-Cigarette-Refrigerator-Traveling/dp/B01BXWL9QW/
The best cheap air purifier for under $100 will let you breathe better without putting a dent into your budget. Choose your preferred model today and you'll be breathing cleaner air with every breath you take.