The Best Whole House Air Purifier Reviews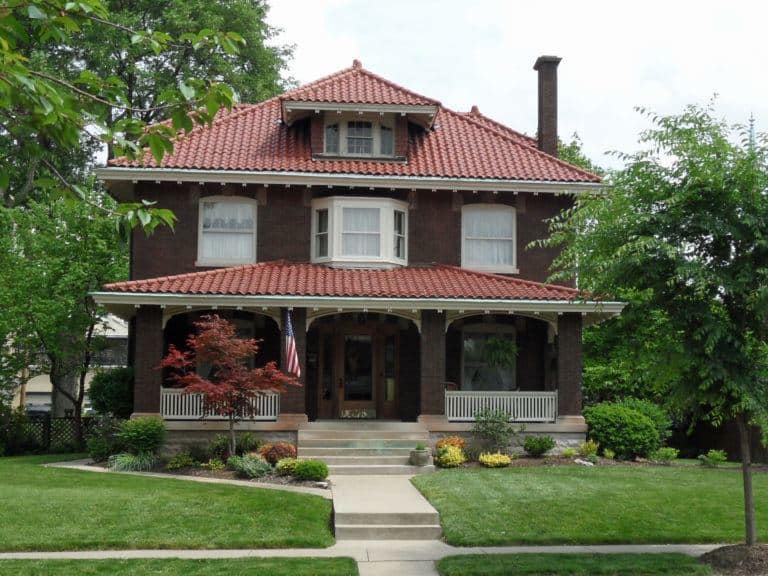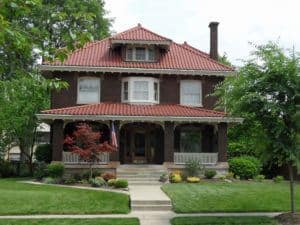 There are some regions in this world that are extremely damp. Places like Seattle, where sunshine is measured in sunbreaks; or places in tropical regions where it seems to rain every day. Then there are other places that are damp during one part of the year when the monsoons start.
Dampness creates indoor air pollution. To eliminate that pollution, you may need a strong air purifier. A big air purifier. The best whole house air purifier. These reviews will help you find the perfect model if air cleaners are what you are looking for.
The Best Chart for Whole House Air Purifiers 
Some whole-house air purifier systems are designed to provide air filtration in smaller homes. Others have the ability to work effectively in homes that are 3,600 square feet in size or larger. Yet size doesn't always matter in this category. It's effectiveness that you want and the top-rated models in the chart below have proven that they are good at what they do.
Indoor Air Quality and the Best Whole House Air Purifier
Protecting your indoor air quality from pollutants is one of the most important things you can do for your house. Whether you're living in an apartment or you own your dream home, there are several ways you can protect the quality of air that your lungs breathe every day.
Most indoor air quality problems are related to gases or airborne particles that have been released into your air. When this is combined with an inadequate HVAC system that doesn't pull in enough outdoor air to circulate out the polluted indoor air, then you can begin seeing more asthma problems, allergy problems, and even mold growth.
All of these issues become more concentrated in high moisture environments, especially when there are also high-temperature levels.
The EPA has put together several moisture and mold prevention tips that can help you to improve the indoor air quality of your home. Add these to the installation of the best whole house air purifier that meets your needs, and you'll be able to create a healthier environment you want.
How to Find the Best Whole House Air Purifier
What makes this category unique is that you've got several different style options available so you can meet the unique needs of your home. Here are the choices that you've got when you need an air purifier for the entire home.
HVAC Installation. Some air purifiers work with your furnace or central air conditioning unit. They'll filter out the particles as the air blows into or out of the furnace, so your vents receive the cleanest air possible. HEPA air scrubbers and furnace filters would fit into this category.
Central models. These large air purifiers can be placed in virtually any room of the home. They have enough power to cycle air throughout the whole home, even though they are centrally located.
Split models. These air purifiers cycle air from outdoors to the indoors and in reverse. It uses filtering action to help remove odors, harmful airborne particles, and other indoor air quality contaminants during the cycling process. 
You'll also notice that in addition to these design options, there are square footage measurements that are often included in air purifiers in this category.
These measurements are listed with two options: maximum square footage and recommended square footage. These two measurements can be very different from one another. The max square footage rating might be 3,500 square feet, but the recommended measurement might only be 1,100 square feet. 
Look for the model that gives you a recommended square footage rating that meets or exceeds the size of your home for the best results. 
Common Issues with Whole House Air Purifiers and How to Fix Them
The main issue we've noticed with air purifiers in this category is how they consume power in relation to their actions of filtering air. When there are high levels of dirt/particle loading on the unit, some models begin to lose their efficiency. Look for whole-house air purifiers with a self-regulating solid-state power supply for best results here.
Some air purifiers in this category don't actually keep all of the dirt and airborne particles they screen out of the air in their filters. It builds up to become this nasty, slimy gunk that can coat the internal parts of your air purifier and reduce its efficiency. Look for models that will filter this gunk out and keep it in the filter for you.
Ozone production can also be an issue in this category. Having a little ozone can be a good thing, but having a lot can be very bothersome. If the air purifier says that it produces ozone to clean out your air ducts, then look for specific output levels so you can maintain an environment below the recommended 8 parts per million.
What Are the Prices of Whole House Air Purifiers?
There is a direct correlation to the price of an air purifier in this category to the size of a home it benefits. Smaller homes are going to be able to install cheaper models.
For homes under 1,000 square feet in size, an air purifier in this category can be found for less than $100. In larger homes, you might find the price exceeds $500 for your preferred model.
Most homes are going to find something that works for their needs in the $200-$300 range.
What Do Our Purifier Reviews Have to Say?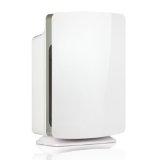 If your home is a little on the smaller size, say 1,100 square feet or so, then consider thisAlenBreatheSmart air purifier to meet your needs. You won't need to hassle with an HVAC installation and the permitting that may be involved with that process.
You won't have to worry about ozone production and how it may affect your family or pets, either. You'll have a simple solution that can help to improve air quality levels immediately thanks to the HEPA-Pure filter that runs quietly in the background.
If clean breathing is a priority for you, then we think you'll agree this is one of the best air purifiers in this category.
Click here to check the price on Amazon and get the best deal.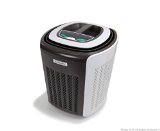 This brushless HEPA air purifier gives you 5 speeds of customization so that your home can have the best air quality levels possible. Odors, dust, allergens – they just don't stand a chance. Control this air purifier with the LCD touch display manually or set it to work automatically when it senses air quality issues in your home.
A hospital-grade HEPA filter is oversized, and of commercial quality, so you really notice the difference. It's a bit of an investment, but a 7-year warranty backs you up as the air purifier moves 212 cubic feet of air per minute. If you have stubborn air quality issues, this is the air purifier to consider.
Click here to check the price on Amazon and get the best deal.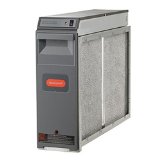 This whole home air purifier can make a huge difference in your indoor air quality. It's so effective, in fact, that some users report health improvements with family members who have severe COPD. It operates fairly quietly, makes a dramatic impact on the dust that may be in your home, and controls common allergy triggers like pollen and pet dander as well.
The biggest difficulty in owning this unit, at least from our perspective, would be the times when you need to clean it. Other than that, this air purifier produced consistent results for us and should for you as well.
Click here to check the price on Amazon and get the best deal.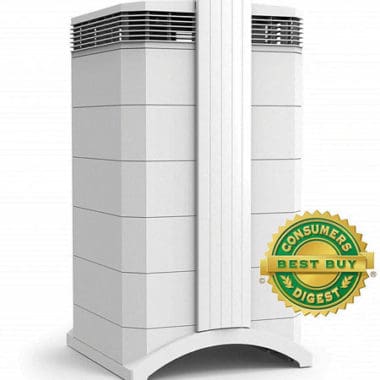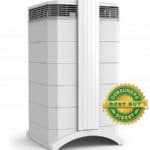 According to Amazon, this is one of the top-rated air purifiers for allergies and asthma. It has been proven to be more effective than air purifiers containing just HEPA filters. This model's exclusive technology and HyperHEPA filters stop ultrafine particles including those down to 0.003 microns. These ultrafine particles include tobacco smoke odors, soot, viruses, and pet dander.
This air purifier is also large enough to cover a span of up to 1,125 square feet. It has triple-seal technology to eliminate any air leakage, and the filter media is sealed into the filter frame. It also comes with a new edition fan and a maintenance-free motor that can deliver up to 780 CFM using only 27 watts of power at its highest speed setting.
Click here to check the price on Amazon and get the best deal.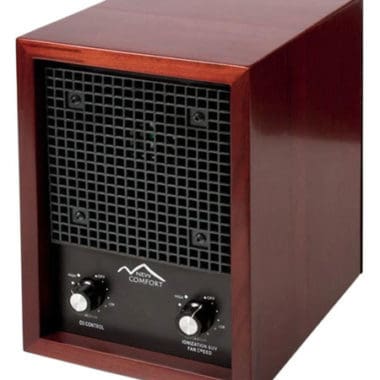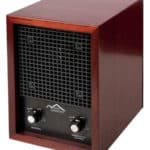 This air purifier has a beautiful cherry wood finish and offers two levels of adjustable air purification for the home. It has a fan speed dial and UV and ion dial and allows for ionic and ozone generation which is great for odor control in the home and helps kill viruses, mold spores, and other odor-causing bacteria,
The ozone and ion air purification are also ideal for those who suffer from allergies. The high output fan on this device can purify the air of a 3500 square foot space and includes a commercial grade power cord.
In case of premature failure, it has a fuse for added protection. You can also use either one or two of the ozone plates depending on the level of ozone control you want to achieve.
Click here to check the price on Amazon and get the best deal.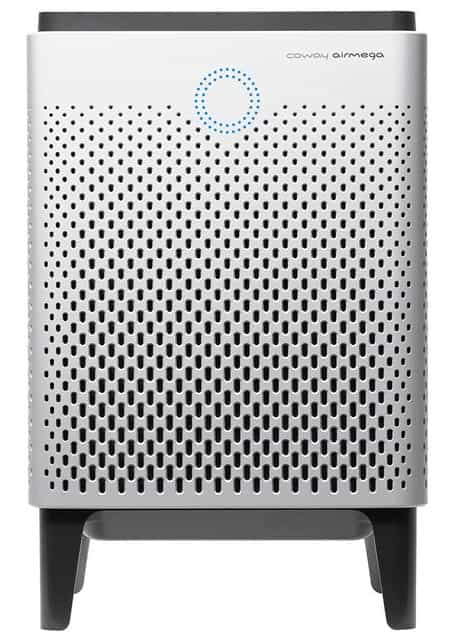 This air purifier can cover a smaller home up to 1560 square feet. It is also powerful enough to clean the air two times in just one hour. It includes an Air Mega Max 2 filter alongside an activated carbon and True HEPA filter. With these, it can capture up to 99.97% of air particles. It also comes with a pre-filter that is both permanent and washable.
It features a colorful LED ring to fill you in on how polluted the indoor air quality of your home is at any given time of the day. Its smart mode offers three settings and can easily adapt to its surroundings. The noise level is a bit higher than you may find with other models at 22-52 dB.
Click here to check the price on Amazon and get the best deal.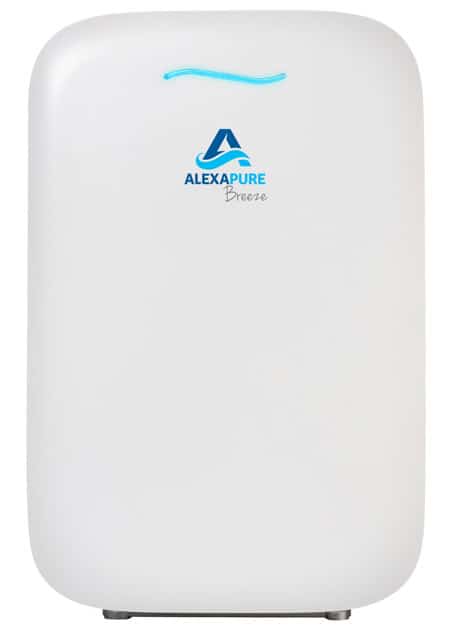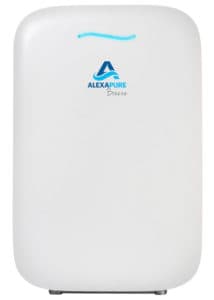 This air purification system utilizes a pre-filter, activated carbon filter, and True HEPA filter to remove particles as small as 0.3 microns. It only covers a space of up to 800 square feet, so it would be ideal for smaller apartments and homes.
It is extremely energy-efficient, however, and can run a cycle of 120 feet every 12 minutes. It has reportedly exceeded the Allergy and Asthma foundation recommendations as well.
Click here to check the price on Amazon and get the best deal.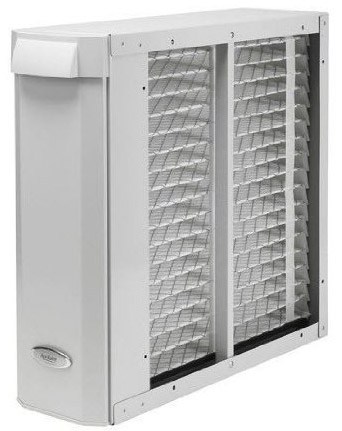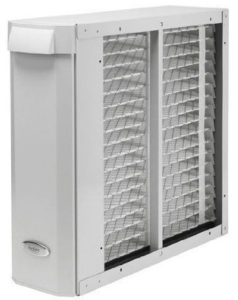 This whole-house air purifier can cover your home and trap up to 98% of visible airborne particles and dust mites. It can also capture 97% of airborne particles that are pollen-sized. It is also a more cost-effective option because you only have to get replacement filters every one to two years and it requires very minimal maintenance to run at its peak performance level.
There are absolutely no moving parts with this air purification system, and it produces no ozone. It is best to have your heating and cooler professional help you determine which filters to purchase for your air purifier.
Click here to check the price on Amazon and get the best deal.
How Long Should You Run Your Air Purifier?
The average air purifier has an extraction rate of approximately six air changes an hour. This means that you can run your air purifier for about 10-12 hours per day. However, it is important to remember that the actual run time largely depends on the make, model, and type of air purifier you purchase. The longer you can run the air purifier, the cleaner the air quality in your home will be.
Bottom Line
Unlike portable air purifiers, a whole-house air purifier is much larger and not always as easy to set up. A whole-house air purifier is designed to help remove larger air pollutants from the home to improve the overall indoor air quality you experience.
If you are looking to remove much smaller air particles, you may want to consider investing in smaller, portable air purifiersfor filtration.
A lot of the time, you will also find that the filters on a whole-house air purifier are washable, so you don't have to spend a lot of money on frequent replacement filters like you might have to do with portable air purifiers.
The best whole house air purifier reviews will let you find the best possible make and model for the unique needs of your home. Stop breathing dirty air and start enjoying all of the benefits that good indoor air can provide by choosing one of these proven air purifiers today.