Air purifiers are relatively quiet. Some just happen to be quieter than others. Although some background noise isn't a bad thing, it can cause sleeplessness, restlessness, or make it difficult to carry on a conversation with someone. That's where the best quiet air purifier reviews can help you out. These models not only make sure your lungs get better air with every breath, they won't make your ears start ringing in order to get the job done.
The Best Chart for Quiet Air Purifiers 
You really don't have to trade indoor air pollution for indoor noise pollution today. These top-rated models prove that you can have clean air and a quiet home at the same time. Find your preferred air purifier today by comparing the models below.
What Is a Quiet Air Purifier and Why Do I Need One?
When shopping for an air purifier, the goal that many people seem to have is to install a model in their bedroom so they can have clean air all night long. Thanks to indoor air quality issues present in many homes, many people wake up with bothersome symptoms at night and this robs them of the restful sleep they need. Do you suffer from any of these symptoms?
Sinus pain and/or pressure.
Headaches that disappear when you go outside.
Itchiness in the eyes or at the back of the throat.
Feeling tired in the morning due to tossing and turning.
Although these can also be symptoms of a serious medical condition, it is, for most homes, an issue of air quality. By installing an air purifier in the bedroom, the contaminants in the air can be filtered out before they enter into your lungs. The end result? A peaceful night of sleeping.
The issue that some people have with air purifiers is that they are too loud for their comfort levels when trying to get to sleep. Slow, low sounds do a great job of muting out distracting sounds, but some air purifiers tend to sound more like a jet overhead than a peaceful bit of ambient background noise. That's where the best quiet air purifier reviews can really help the shopping process today.
Most people prefer an environment that is below 60 decibels in noise in order to relax enough to get to sleep. These comparative noise examples offer a look at what that decibel rating really means. Something at 40 dB is 1/8 the noise level of something at 70 dB. At 30 dB, the sounds are just 1/16 of 70 dB. That can be a very meaningful difference for someone who is trying to get to sleep.
Yet being quiet isn't the only feature of an air purifier to shop for today. What good is an air purifier that is quiet, but doesn't actually filter out the particles that are potentially bothersome to your health?
Does a Quiet Air Purifier Limit Sleep Disturbance? 
"There is overwhelming evidence," a research team led by the World Health Organization concluded, "that exposure to environmental noise has adverse effects on the health of the population." The research team found, according to Scientific American, that people in Western Europe lose 1 million disability-adjusted life-years every night because of unwanted, human-induced noise.
Noise causes sleep disturbances. These disturbances can be linked to increased risks of cardiovascular disease, tinnitus, and a lack of productivity at work. For children, noise disturbances at night can impair their development. It creates stress. When you have an air purifier in your bedroom above 70 dB, then there is a good chance that you're going to create a sleep disturbance for yourself.
Installing a quiet air purifier can help to limit sleep disturbances in two ways: the low levels of noise remain below disturbance thresholds and create background "white noise" that can blend out other sounds.
It might take a night or two to get used to the new air purifier, but once you do, your sleep is likely to be truer.
The Features to Find in the Best Quiet Air Purifiers 
The primary feature we recommend looking for in the best quiet air purifiers is true HEPA filtration. You'll find a number of different terms in this category and some are very misleading – like "HEPASilent." You might be a light sleeper, but nothing beats true HEPA filtration, even if your preferred model offers internal ionization or other air filtering features. If you have allergies you're trying to control, you need a true HEPA filter.
Another unique feature on some models in this category is UV light. The UV-C feature helps to eliminate micro-organisms that might be living in the air you breathe. Exposure to the light kills them before they enter your lungs. This feature is useful in rooms that don't have any window access to sunlight.
Coverage ratings are also important to consider with the best quiet air purifiers. Some models say that they can cover up to 1,650 square feet, but if you look at their recommended square footage, it could be as low as 550 square feet. HEPA-type units tend to have the lowest levels of coverage, sometimes coming in at less than 250 square feet. Think about the size of your room to determine if it will work for you.
Other features you may also want to take a look at before finalizing your purchase: fan speeds, night-mode settings, warranty quality, and pre- or post-filters that may be required to operate the air purifier.
What Are the Prices of the Best Quiet Air Purifiers?
There is a wide range of pricing in this category of air purifiers. Entry-level models may be priced under $100. Some of the top-priced premium models can exceed $600. It all depends on how quiet you need the air purifier to be and how much contamination may be in your indoor environment. If your needs are light, then the cost will be light on your budget. 
What Do Our Reviews Have to Say?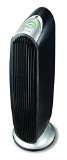 It all begins with an incredibly quiet fan that pulls the air from your room into the air purifier. The air is filtered through a 3-step filtration system that captures 99% of particulates that are 2 microns in size and larger. The pre-filter is washable and will collect pet fur, dust, and lint. Then the high performance filter will take out the smaller particles like pollen and smoke. In the final step, an ionizer will charge the air with negative ions so that the cleaning power the air purifier provides gets a boost. The filters are permanent, so you don't have to worry about changing them out. The end result? A quiet air purifier that works well in rooms up to 170 square feet.
Click here to check the price on Amazon and get the best deal.

There are generic filters available for this unit, but the ones made by this brand work the best. The HEPA filter needs to be replaced about twice per year if you run the unit extensively. We also recommend changing out the carbon filters every 3 months or so to make sure you're getting the best possible results. Indicator lights let you know when it's time to replace the filter. Otherwise we've found that this unit may not be as quiet as the ratings indicate. All in all, however, we found this to be a great air purifier for small spaces. It does what it says it can do.
Click here to check the price on Amazon and get the best deal.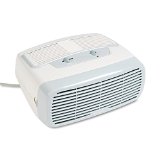 This air purifier doesn't have a HEPA filter, but it still does a fantastic job of giving you a better indoor air quality for a very fair price. The ionizer included with this model is optional and has three settings of strength, just as there are three fan settings to use as well. Clean out the filter every 3-4 weeks when you first start using this air purifier for best results. Set it on the floor, on a desktop, or on a shelf in your closet and odors will disappear quickly. Put it by your bed and you'll notice a drop in allergy issues. It's easily one of the best air purifiers in this category and when you use it, you'll see why it is a consistent best-seller.
Click here to check the price on Amazon and get the best deal.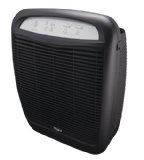 There are two indicator lights on this model: one for the true HEPA filter and the other for the carbon pre-filter. You can run the unit without the carbon pre-filter, but that won't eliminate the odors from your home if you do. The first couple months with this air purifier, you may need to change the carbon filters every 30 days or so. Then you can expect about 3 months of use under normal operating conditions. Just watch out for the heat this air purifier can generate. It can get hot enough to the touch that a light burn can result with 24/7 operation.
Click here to check the price on Amazon and get the best deal.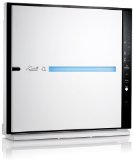 This might be one of the most expensive air purifiers in this category, but it is also one of the most effective. It offers you six stages of air purification thanks to the BioGS HEPA filtration. Room coverage is rated for up to 700 square feet. You can also customize the filters to meet your specific indoor air quality needs. There is some assembly required with this air purifier, but the instructions to do so are thorough. Just remember to unwrap the filters before placing them into the machine so you don't inadvertently damage one of them or the air purifier.
Click here to check the price on Amazon and get the best deal.
The best quiet air purifier reviews will help you to find the right solution for your home at a price your budget can afford. Compare features, contrast results, and you'll be able to experience clean breathing like never before.