Honeywell Air Purifier Reviews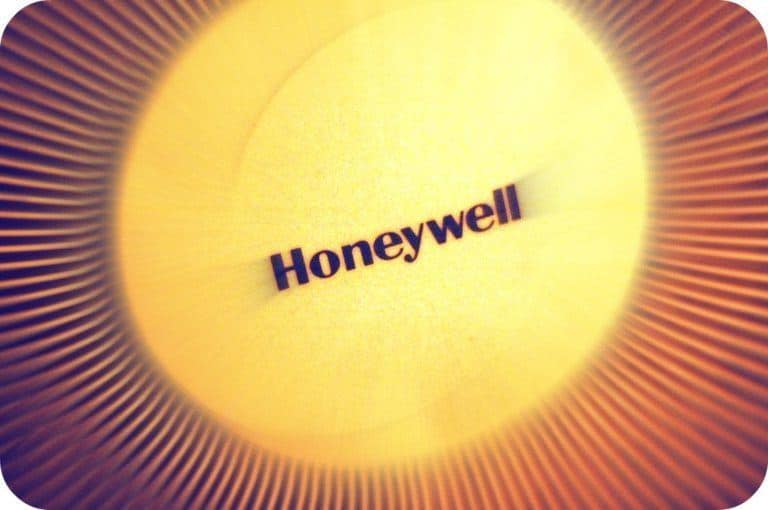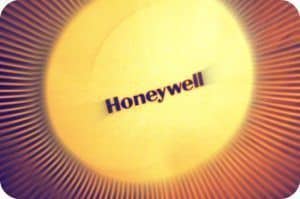 Honeywell is an air purifier brand that focuses on innovation, security, and connectivity so that the world can be cleaner and more sustainable. They focus on producing products, like a line of air purifiers, which help people deal with the challenges of urbanization and critical health issues. Honeywell is a Fortune 100 company with over $40 billion in annual sales.
The Best Chart for Honeywell Air Purifiers
Each model produced by Honeywell offers a home a specific feature that may meet your needs. By comparing and contrasting each model, you'll be in a better position to choose the right air purifier the first time around.
What Is the Honeywell Difference?
It is an initiative called HUE, or the "Honeywell User Experience." It is an internal philosophy, which leads this company to produce products that are smart and practical.
The air purifiers fit in with the HUE initiative by being products that are easy to install, to use, and to maintain at home. The goal of this brand is simple: to make sure their air purifiers are intuitive, but still useful, so you receive the experience you need in your home.
The Benefits of Choosing Honeywell
Honeywell air purifiers are available in most retail centers, from Amazon to Home Depot, giving you warranty servicing options should something unexpected happen.
Many Honeywell air purifiers offer true HEPA air filtration, giving you 99.97% particulate filtration for your preferred room.
The cost of a Honeywell air purifier is competitive with most other brands.
Innovative technologies, which "includes a patented 360-degree air intake and discharge that maximizes overall efficiency, while circulating the surrounding air," help to make sure your home has the high-quality indoor environment you want.
A complete code of conduct has been implemented to cover transactions, R&D, and even employee training, so your air purifier is the best it can possibly be.
Honeywell Is One of the Top Awarded Brands in the Industry
The full list of annual awards that Honeywell receives is too numerous to list here. From having one of the world's best CEOs to awards for innovation, workplace environment, to being the #4 World's Most Admired Company in 2016 according to Fortune, you can rest assured that Honeywell is going to make sure the air purifier you choose is going to do its best to meet your needs.
What Are the Prices of Honeywell Air Purifiers?
Most of the air purifiers produced by Honeywell are going to be in the $100-$200 range. Some cheaper models are available, but many of them only offer "HEPA-type" air filtration, and that may not be beneficial for some homes.
There are larger models intended for whole-home solutions or very large rooms that are above this price point. On the whole, however, Honeywell's prices are in-line with other air purifier manufacturers today.
What Do Our Reviews Have to Say?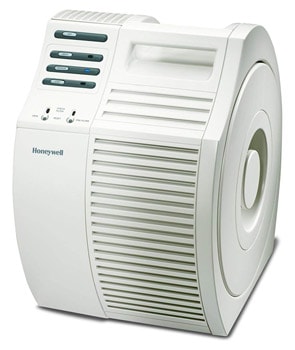 For starters, this air purifier comes equipped with a true HEPA filter for better air purification. There aren't any marketing terms here to make you think that you're getting anything but the HEPA filtration that you need. It captures 99.97% of the common allergens that can make you feel miserable. You've got 3-speed settings for the fan as well, so if you've just come in from an adventure outside where there was some air pollution, you can set the air purifier to high and limit your bothersome symptoms.
Click here to check the price on Amazon and get the best deal.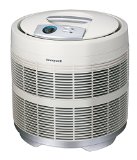 With a powerful motor, strong sealing technologies, and a 360-degree air intake/discharge, this air purifier maximizes its efficiency very effectively. Place it in any area of your room, and you are going to notice a difference. At 390 square feet, you'll receive CADR ratings of 250+.
In smaller rooms, you can receive 20+ air changes per hour for fast relief. There is some noise associated with this unit, which may be problematic for some with sensitive hearing, but we found the positives far outweigh whatever negatives are present with this air purifier.
Click here to check the price on Amazon and get the best deal.
This is one of the best models from the Honeywell brand for allergy sufferers. Not only is this brand often ranked at the top by allergists who recommend air purifiers, but you'll see benefits in even large rooms up to 465 square feet in size.
The controls are easy to reach, right on top of the air purifier, so you can always have the customized experience you need. Capture airborne germs, trap pollens and eliminate pet dander with ease.
The carbon pre-filter even reduces odors pretty effectively. Give it a try, and we think you'll agree that this is one of the best Honeywell air purifiers out there right now.
Click here to check the price on Amazon and get the best deal.
This round air purifier gives you faster cleaning of your indoor air thanks to its unique design. Set it in the middle of your room, and you'll remove 99.97% of airborne particles and reduce bacteria by up to 99.4%. The lifetime true HEPA filter is remarkably easy to clean, limiting your ongoing maintenance costs.
It would be nice if there was a remote control available to operate this unit, but the full circumference air intake and discharge is a positive that is difficult to outweigh. We found great results with this particular model and think you will as well.
Click here to check the price on Amazon and get the best deal.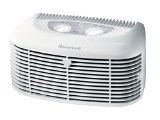 This is the portable solution you can take with you to the office or in your RV when you want better air to breathe. It's compact enough to sit on a desk or tabletop, yet still capture a large majority of the particulate contaminants that are in the air.
The optional ionizer is a nice touch for those who want to have the feature. It's a little loud at 60dB, but effectively cleans up to 85 square feet, and you can't beat the price. If you need an affordable solution, this could be the best Honeywell air purifier for you.
Click here to check the price on Amazon and get the best deal.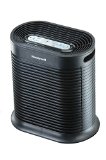 This is another option from Honeywell for those who suffer from allergies. This is a model that we'd consider to be "bedroom support." Set it next to your bed on a dresser, nightstand, or bookshelf, and you'll notice some immediate changes in the indoor air quality. Carbon pre-filters help to trap odors, as well.
You receive three different air cleaning settings so that when pollen counts are high, you can still experience relief. Many users report needing less overall allergy medication with this type of air purifier in their rooms. Could that be you as well?
Click here to check the price on Amazon and get the best deal.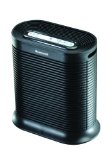 Having an allergy air purifier in your bedroom is a good thing. The only problem is that you'll still have allergy problems throughout the rest of the house. This is where an upgraded Honeywell air purifier can really help you out. This model offers all of the same features that the other allergen models from this brand provide, but on a larger scale.
You'll receive indoor air quality benefits for up to 310 square feet of space within your home. Keep up with the filter replacement notifications for the best results, and you'll see noticeable relief from your allergy symptoms over time.
Click here to check the price on Amazon and get the best deal.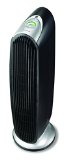 This tower-style purifier is a great low-maintenance option that you can run in your home 24/7. It offers a built-in ionizer that can help to trap stubborn contaminants, while the permanent pre-filter takes on the odors you might have. Electronic indicators let you know when it is time to service the filters in this unit. It will capture pollen, pet dander, dust, and other common allergy and asthma triggers. It's also ARB Certified to comply with current government standards on ozone, so even the most sensitive of individuals won't have to worry about the quality of their air. It's a great price for a great air purifier.
Click here to check the price on Amazon and get the best deal.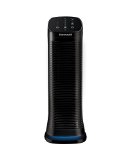 This Energy Star rated option from Honeywell offers you a patented opportunity to achieve clean breathing. It's super quiet when operating, making it the perfect addition to a bedroom. The tower design helps to save space without affecting the results you can achieve.
A germ capture mode is complemented by a max cleaning power option so you can have strong or customized results based on your needs. If you want an air purifier that can do it all, then this is one of the models you'll want to consider today.
Click here to check the price on Amazon and get the best deal.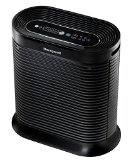 The one thing we loved about this allergen reducing air purifier is that it has a pollen air quality sensor equipped to it. If pollen levels are higher than normal in your home, then this air purifier will automatically turn on and get to work.
It is also compatible with Android and iOS devices through a helpful app that lets you control the air purifier via remote control.
Working in rooms up to 310 square feet in size, this could be the solution to your allergy problems for a surprisingly good price.
Click here to check the price on Amazon and get the best deal.
Bottom Line
When buying a new air purifier, you need to think about why you need it to begin with, what size you will need, what features you want, where you will put it, and how much maintenance you are going to need to do.
Always consider your indoor air quality needs. For more general improvements, you can probably get away with a model that comes with a HEPA filter or High-Efficiency Particulate air filters. However, if you suffer from allergies, you want to choose a model that is designed to provide you with allergy relief.
Smoke is a smell that is hard to eliminate, so if this is one of your problems, you want to make sure you also have an activated carbon filter that can help trap those odors and improve your air quality.
Indoor air quality is often worse than the outdoor air quality, but you've got to do more than opening your windows. The best Honeywell air purifier reviews will help you find the perfect model that will meet your home's needs today.
Honeywell Air Purifier FAQ
Are Honeywell Air Purifiers quiet to operate?
You will find that most Honeywell models boast of quiet operation. However, for ultra-quiet operation, you may want to consider the QuietCare model that is extremely quiet when running on the lower settings. It has a specially designed blade and rubber isolated motor mount to help with the noise.
How often do I need to change the filters?
Honeywell air purifiers come with a long-life HEPA filter that can last you between three to five years or sometimes even longer. The average pre-filter will last around three months. And the carbon will also hold onto odors and last for around three months as well. So, ultimately, you should get replacement filters every three months or so.
Can you explain what the Intelli-Check Monitoring System is?
This is simply a guideline that you can use to know when to replace the air purifier's pre-filter. The system will alert you when it is time. The indicator lights up.
Is there any kind of warranty offered on Honeywell air purifiers?
They typically come with a limited 5-year warranty, and this warranty covers the replacement of the entire device if it is found to be defective as long as it is within five years of the purchase date.
When you purchase your air purifier, be sure to fill out the warranty card that comes with it, or you will not be able to receive any of the benefits or replacement if it turns out to be defective.
Do these air purifiers produce ozone?
No. Honeywell air purifiers do not produce ozone.
How do I choose the best air purifier for my needs?
There are some models that offer an air filter upgrade. This means that you can choose something that is completely customized to your own individual needs. So, when shopping for an air purifier, you need to think about the kind of air pollutants you need to eliminate.
If you need to remove allergens, odors, chemicals, smoke, germs, bacteria and viruses, then you want to make sure to get the best filter technology available to address these needs.