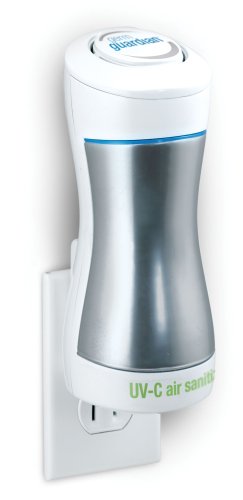 Bathrooms.
They're one of the dirtiest rooms in your house. Just think about all of the germs that might be lurking around the toilet. If you have a bathroom and young kids, then you might be tempted to clean that bathroom with a flamethrower. This is the perfect environment for the Germ Guardian GG1000 Pluggable Sanitizer and Odor Reducer.
You fight germs just by plugging this air sanitizer into any standard outlet. You can pick up one for less than $40 right now. In return, your bathroom or any other small space will smell better. Fresher. Fantastic.
The Features of the Germ Guardian GG1000 
This air sanitizer fights germs through the use of UV-C technology. The ultraviolet light kills airborne viruses, bacteria, and other germs that might be lurking in your confined spaces.
This sanitation effect also helps to naturally combat odors that get magnified in small spaces. Pets, mold/mildew, smoke – all gone in a day or two.
98% of mold spores, dust mites, and other allergens are destroyed when this unit is operating at full capacity.
The UV-C light bulb works for about 6-8 months under normal conditions. It's easy to replace – just use this link: http://www.amazon.com/GermGuardian-LB1000-Replacement-GG1000-Sanitizers/dp/B001TLRSOA
What We Like About the Germ Guardian GG1000 
In a word: convenience. This little air sanitizer can work with any outlet. Take it with you and plug it in at work. Put it in your bathroom. Put it in your RV. You'll notice a difference in the quality of the air you're breathing in just a day or two.
The odor control that you receive with this air sanitizer is surprisingly effective. It handles most household odors that might be present. From cooking to that wet dog smell after you give your best friend a bath, the Germ Guardian GG1000 takes care of them all.
It's also very quiet. You'll notice it running, but it blends into the background pretty well. It also looks nice, so you don't mind having it out when company comes over. Depending on who is visiting, you might even want to put it in the living room for a while.
What Could Be Improved With the Germ Guardian GG1000
Ultimately the issue we can see people having with this air sanitizer is its effectiveness. It isn't going to work very well in larger spaces. In a bathroom, it may take an hour or so to clean the air. In a large room, it could take 4-5 hours to do it.
Maybe our biggest complaint was how the unit was packaged. It was a pain in the neck to get out.
If you want a portable air sanitizer that can provide you with proven results, then you're going to want the Germ Guardian GG1000. No product is not 100% perfect for every possible need, but this portable air sanitizer makes a great effort at it.
Click here to check the price on Amazon and get the best deal on the Germ Guardian GG1000 Pluggable Sanitizer and Odor Reducer.