Review: Winix WAC5500 PlasmaWave True HEPA Air Purifier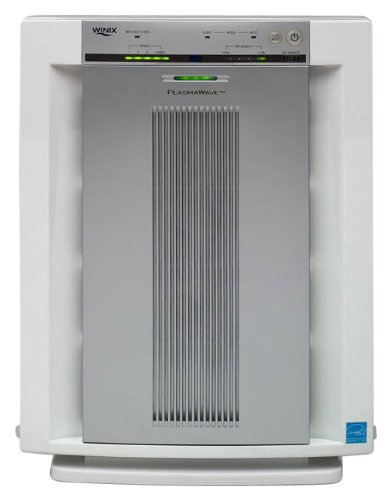 If you have strong odors in your home, then you need to have a powerful air purifier to help neutralize that issue. Some brands will use carbon filtration to counter the odor issue, but this unit takes a different approach. The Winix WAC5500 PlasmaWave True HEPA Air Purifier utilizes a minimal amount of ozone creation to neutralize odors very effectively. Ozone levels are kept under government-recommended levels, but you will notice the PlasmaWave technology when you use this air purifier in a small room.
The benefit of this technology goes beyond odors. You'll notice fewer chemical smells. You might not get sick as often – a definite plus when you have kids going to school every day. Bacteria don't stand a chance. You get these benefits for less than $150 and it's an Energy Star qualified air purifier. The benefits don't just stop there.
What Are the Features of the Winix WAC5500? 
We really loved the smart sensor technology that has been included with the Winix WAC5500 True HEPA Air Purifier. This allows the unit to adjust to the specific indoor air quality conditions that you have in your home. Instead of operating at a maximum output level like other air purifiers at this price point, your room receives an automatically customized air cleaner that will maximize the air quality you receive.
You might also find these additional features to be of benefit.
This air purifier is AHAM verified to be able to operate in rooms of up to 350 square feet in size.
CADR ratings for pollen are 251, dust is 216, and tobacco smoke is 235.
You can also control this air purifier manually with 4 fan speed settings, which is complimented by a filter change notice.
You'll get about 6 months of life from the carbon filter and 12 months from the true HEPA filter if you use the lower fan settings. If you're using the Turbo setting, the replacement time may be cut in half. Most of the fan settings are relatively quiet, but you'll notice the noise when the air purifier is on its highest setting.
Key Observations about the Winix WAC5500 
The one thing we'd change about the design of the Winix WAC5500 PlasmaWave Air Purifier is that you can't turn off the PlasmaWave unless you use the remote control. If you lose the remote with the settings on, then you're going to have some limited ozone exposure – though admittedly under the maximum recommended exposure levels set by the US Government.
The HEPA filter is reportedly washable, but the brand doesn't offer instructions as to how to properly clean it. Vacuuming it out seems to be difficult. You may just need to replace the unit.
Overall the Winix WAC5500 PlasmaWave True HEPA Air Purifier does an excellent job of giving you a fresher environment. If you're sensitive to the indoor air quality of your home, then this might just be the best air purifier to get so that you can have a quiet, happy home with cleaner air to breathe.
Click here to check the price on Amazon and get the best deal on the Winix WAC5500 PlasmaWave True HEPA Air Purifier.