Review: Whirlpool Whispure Air Purifier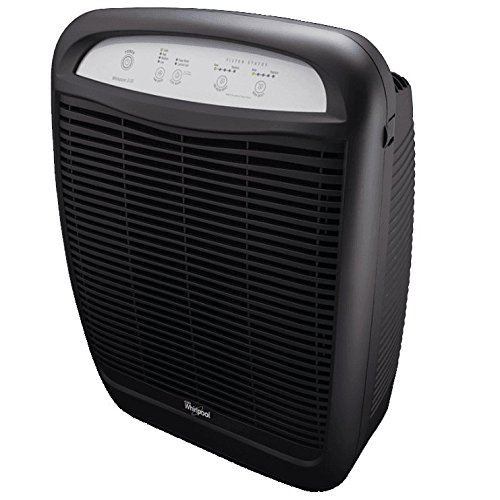 If you're like me, then you want to have an air purifier that you can turn on and then forget about it. The air purifier does its job as you go about doing your work. That's exactly what you'll receive with the Whirlpool Whispure Air Purifier. This machine is a beast. You'll notice an improvement in your indoor air quality within the first hour of it operating. In a couple days, you might even notice some long-term congestion has disappeared.
The cost of the Whirlpool Whispure might be an issue for some. It currently retails for around $275. If you can afford the investment, then you'll be pleased with the results. I know I sure loved being able to give this air purifier a try.
The Features of the Whirlpool Whispure Air Purifier 
You receive true HEPA filtration with 99.97% effectiveness so that particulates 0.3 microns in size or larger are captured by this air purifier.
The CADR of this air purifier is 315 and is AHAM Verified.
4 fan speed settings are offered, featuring a Turbo speed for fast results and a Sleep speed for quieter operation.
Whirlpool offers a 5 year limited warranty on this air purifier so you're protected against defects in materials and craftsmanship. There's also a 30 day money-back guarantee.
This air purifier is also Energy Star qualified.
How the Whirlpool Whispure Air Purifier Works 
The manufacturer recommends this air purifier for rooms up to 500 square feet in size. The experience we had with this unit was very similar to this recommendation. On the Turbo setting, our largest room (425 square feet) was able to see real results in about 2 hours. When placed in a smaller room, you could sense the improvements in the air quality happening around you. In the largest recommended room, you'll get about 5 air circulations per hour.
You'll also know when it is time to change out the filters on the Whirlpool Whispure Air Purifier. There are two indicator lights on this model: one for the true HEPA filter and the other for the carbon pre-filter. You can run the unit without the carbon pre-filter, but that won't eliminate the odors from your home if you do. The first couple months with this air purifier, you may need to change the carbon filters every 30 days or so. Then you can expect about 3 months of use under normal operating conditions.
I did notice that this unit can generate some heat if you leave it running 24/7. In a smaller room, that might change the temperature enough to make you feel uncomfortable.
Overall, however, I can't tell you enough how pleased I was with the results the Whirlpool Whispure was able to offer. An air purifier with this price should be a reliable unit that produces solid results and that's exactly what it provides. In today's world, a product that keeps its promises can be rare, so I highly recommend giving this air purifier a trial run in your home.
Click here to check the price on Amazon and get the best deal on the Whirlpool Whispure Air Purifier.