Review: Honeywell HHT-011 HEPAClean Compact Air Purifier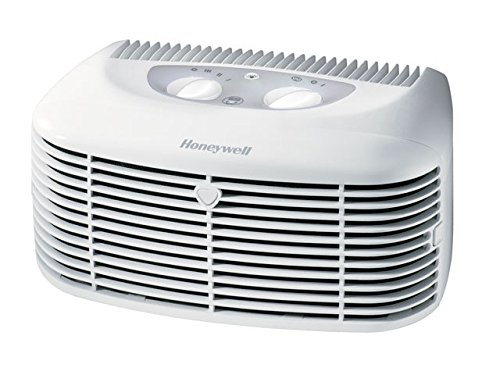 Air purifiers come in many different shapes and sizes. This is because rooms come in many different shapes and sizes. Large rooms need larger air purifiers. If your need for cleaner air is smaller or needs portability, then you can save a ton of cash by using a smaller air purifier. The Honeywell HHT-001 HEPAClean Compact Air purifier is perfect for small rooms, recreational vehicles, or taking with you to the office.
Designed to fit on a desk or table, you'll receive a better indoor air quality in rooms or confined areas that are 85 square feet or less. In return, you'll be able to pick up an air purifier today for less than $50 – that's an incredible value.
What Are the Features of the Honeywell HEPAClean? 
We've got to look at the filter as its primary feature. Let's be clear: "HEPAClean" is not the same as a true HEPA filter. It's a HEPA-type filter that will capture up to 99% of the particulates that are floating in your air right now. It works for mold spores, dust, pollens, and some smoke. It's about as close to having a HEPA filter without actually having one and that helps the budget while still helping the air you breathe as well.
There are these additional features to consider with this compact air purifier as well.
There is a nightlight built into this air purifier so you receive enough illumination that you won't accidentally step on this unit in the middle of the night.
An optional ionizer is included, which you can turn on or off with a quick turn of a dial control.
Three fan settings are offered so you can have as much or as little air purification as you may need at any given time.
When it comes to your indoor air quality, you can do everything right and still fail to give your home an optimized environment. The Honeywell HEPAClean is an affordable way to make sure that your lungs are as comfortable as they can be.
Key Points to Consider With the Honeywell HEPAClean Air Purifier 
Most of the complaints you'll find about this air purifier involve the ionization feature, which is optional. An ionizer is going to create a small level of ozone within the room it is running. For this Honeywell model, the amount is miniscule. You aren't going to smell ozone. Even unusually sensitive people can handle the small ozone levels this air purifier produces.
We ran this model for 7 straight days, 24/7, and did not notice any bothersome physical changes. There were no odors. The air seemed crisper. There wasn't as much dust in that room after a week compared to the other rooms. It did its job rather effectively.
In large rooms, the Honeywell HHT-011 HEPAClean is not going to perform very well. For a smaller room, an RV, or other similar need, we think you'll find that this is a very effective air purifier. It does its job well and that's why it earns our recommendation today.
Click here to check the price on Amazon and get the best deal on the Honeywell HHT-011 HEPAClean Compact Air Purifier.