Review: Hamilton Beach True Air Allergen Reducing Air Cleaner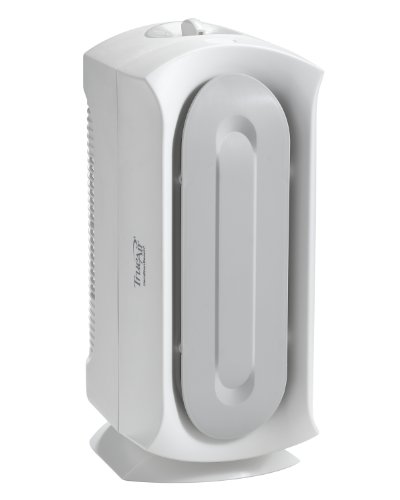 Do you wake up sneezing in the morning? Is your nose stuffy? Do your symptoms get worse when you head outside? Allergies can cling to you like glue. They'll follow you inside, float through an open window, and cause you tons of problems with their constant exposure. This is where the Hamilton Beach True Air Allergen Reducing Air Cleaner can help you out a lot. It's a simple, affordable solution that will quickly reduce your allergy symptoms.
How the Hamilton Beach Air Cleaner Works 
It's a permanent filter that helps to take allergens out of your air. The filter itself is a bit fragile, so you'll want to be careful when it comes time to clean it. The pollens pass through the filter, get trapped there, and you get to breathe cleaner air. During a tough allergy season, you'll want to clean the filter out every 3-4 weeks.
The air is pulled into the cleaner through the use of a fan. You have 3 speed controls that are all relatively quiet. The lowest setting is barely noticeable. Higher settings are similar to box fans that you might run.
Although the air filter is mentioned as HEPA grade, it isn't an actual HEPA filter. You won't need to replace it. Because this is a smaller air cleaner, it works best in smaller rooms. It's rated for up to 160 square feet – we found that it worked pretty well in a room of similar size. In a larger room (220 square feet), results were still positive, but not as noticeable. In the largest room (420 square feet) there was no noticeable change to the indoor air quality.
The Benefits of the Hamilton Beach True Air Allergen Air Cleaner 
The design of the air cleaner makes it suitable to be placed almost anywhere in the home. You can even place it on your computer desk if you wish.
It's not just pet dander and pollens that this air cleaner can take out of the air. Dust, dust mites, and their debris can all be effectively screened out as well.
You can place the air cleaner either vertically or horizontally, depending on what kind of space you have available in the room.
Because of the design of the permanent filter, this Hamilton Beach air cleaner is not suitable for certain rooms. We wouldn't recommend placing it in the kitchen if you do any cooking with oils or grease. The filter will also possibly degrade when exposed to chemicals, pesticides, or solvents. High moisture environments, like a bathroom, will work as long as there is enough room around the air cleaner so that it can pull in enough air.
This isn't a whole home solution. It might not even be large enough for some bedrooms. If you do have a room that fits in with the recommendations of the Hamilton Beach True Air Allergen Reducing Air Cleaner, we think you'll find that the reduction of bothersome physical symptoms is testament enough to what this unit can do. That's why we think of it as one of the best air purifiers on the market today.
Click here to check the price on Amazon and get the best deal on the Hamilton Beach True Air Allergen Reducing Air Cleaner.