Review: Honeywell 50250-S True HEPA Air Purifier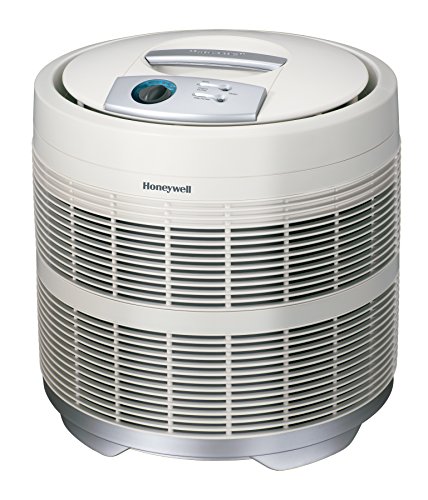 Are you interested in adding an air purifier with true HEPA capabilities to your home? One of the most popular brands of air purifiers today is Honeywell, and one of their most popular models is this one. The Honeywell 50250-S True HEPA Air Purifier offers a cylindrical design that can be placed just about anywhere to start filtering out the particulate pollution that may be in your air right now. It also offers a carbon activated pre-filter to begin reducing odors.
It is a simple, yet effective solution to improve indoor air quality levels right away. The best part is that it is available for just a little over $100, so it doesn't break the budget either.
What Are the Features of the Honeywell 50250-S? 
This air purifier offers a HEPA filter that is surprisingly easy to maintain. Unlike other air purifiers that require you to replace the filter every 6-18 months, Honeywell has created a filter that you can easily vacuum out every once and awhile. This can help you extend the life of the unit, according to the manufacturer, for up to 5 years. We haven't tested it for the full 5 year period, of course, but we can attest to the ease of maintenance this unit offers.
You might also want to take note of these additional features that are offered with the Honeywell 50250-S.
The Intelli-Check Filter Indicator lets you know when it's time to vacuum out your filters or change them out for a new one.
In rooms that are 390 square feet in size, you'll receive 5 air changes per hour. In small rooms under 100 square feet, you receive an outstanding 23 air changes per hour.
At the XL room size (390 square feet), this air purifier has a CADR of 250.
With a powerful motor, strong sealing technologies, and a 360 degree air intake/discharge, this air purifier maximizes its efficiency very effectively. Place it in any area of your room and you are going to notice a difference.
Things to Watch for With the Honeywell 50250-S 
We noticed that there was an increased level of noise that this particular air purifier can generate. It's like a box fan on the lowest setting when you have the air purifier on high. You'll notice the sound at its lowest setting as well. You get used to it, but some folks might be bothered by it.
There's also a slight wobble to the unit as it operates. It also tends to vibrate as the HEPA filter begins to see some build-up to it. We'd recommend placing this air purifier on a rug if you have wood floors just to make sure some unintended damage doesn't occur.
The end result was less sinus pressure, less congestion, and a lot less dust in the room where we had the Honeywell 50250-S operating. It's very effective at what it does and the overall experience was quite positive. That's why it earns our recommendation today.
Click here to check the price on Amazon and get the best deal on the Honeywell 50250-S True HEPA Air Purifier.