Review: Honeywell HFD-120-Q QuietClean Tower Purifier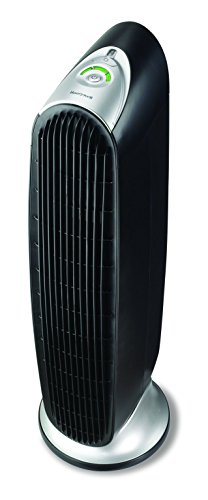 Sometimes you don't need to have a massive air purifier in order to receive the results your home needs. Having a high quality air purifier in your bedroom might be able to solve some common breathing issues, limit allergy symptoms, and potentially reduce asthma attacks. The Honeywell HFD-120-Q QuietClean Tower Purifier is designed to do just that.
Perfect for the bedroom or another small- to medium-sized room, this air purifier takes out up to 18x more particulates from your indoor air while giving you 5 air circulations per hour. Rated with a CADR of 100+ in dust, smoke, and pollen, this is an affordable, low-maintenance air purifier that gets the job done. 
The Features of the Honeywell QuietClean Tower Purifier 
This ultr-quiet air purifier offers users a permanent pre-filter that works effectively in rooms that are up to 170 square feet in size.
There is an electronic filter check indicator that makes it easy to provide proper maintenance for this air purifier.
The tower design makes it easy for this Honeywell air purifier to capture the dust, pollen, pet dander, and cigarette smoke that might be harming your indoor air quality.
A built-in ionizer helps to keep captured particulates within the unit so all you have to do is vacuum them out to clean them.
Despite the ionization feature, this air purifier is ARB Certified in its compliance with ozone emissions limits that are issued by the US Government. 
How the Honeywell QuietClean Tower Purifier Works 
It all begins with an incredibly quiet fan that pulls the air from your room into the air purifier. The air is filtered through a 3-step filtration system that captures 99% of particulates that are 2 microns in size or larger. The pre-filter is washable and will collect pet fur, dust, and lint. Then the high performance filter will take out the smaller particles like pollen and smoke.
In the final step, an ionizer will charge the air with negative ions so that the cleaning power the air purifier provides gets a boost. The filters are permanent, so you don't have to worry about changing them out. As the air oscillates through the machine, you're left with air that is cleaner and fresher. There's a noticeable difference in just 2 hours with this purifier running.
Like some air purifiers, there is a noticeable "new air purifier" smell that you get when first operating this unit. Let it run a day or two and that odor will go away. If it's bothersome, try running it in your garage or on a protected outdoor patio or porch so you don't have that smell come inside.
If you're looking for a simple solution for your indoor air quality issues, the Honeywell HFD-120-Q QuietClean is an affordable and effective way to have cleaner air. Try it for yourself and you'll see why we think it is one of the best air purifiers on the market today.
Click here to check the price on Amazon and get the best deal on the Honeywell HFD-120-Q QuietClean Tower Purifier.